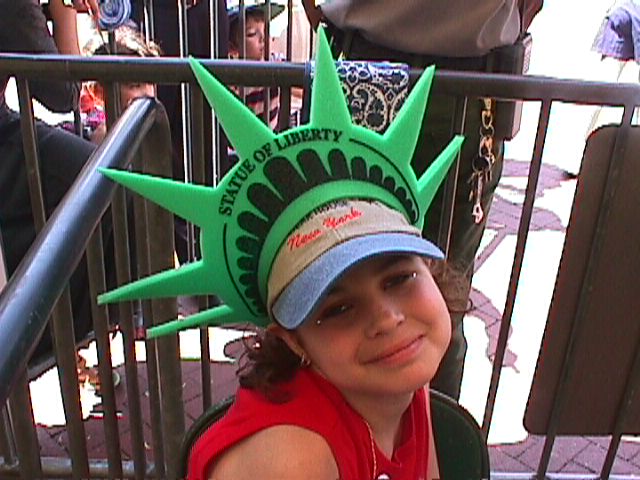 (Last Updated April 2003)

Hi everyone! My name is Jillianne Trotter, and I just turned 16 years old. I have a disease called Lupus. It is an autoimmune disorder, which instead of your immune system fighting against viruses or infections, it fights against your own body. It can affect any joint, tissue or even organ in your body. For me, Lupus affects my joints and I get really super tired. Sometimes, I will only be awake for a few hours during the day. Also, when someone has a virus or infection, I have to be careful as I am prone to catch illnesses easier and can get sicker than most people. I also get mouth sores and what is known as a butterfly rash, which goes across my cheeks. I usually have a lot of bruises all over my legs, and I often have a fever. I sometimes have "brain fog" and forget stuff and it can be frustrating. I have a little heart, neuro, and kidney involvement, but not too bad.

I was diagnosed with Lupus in 1997, when I was in the 5th grade. Before that I was sick for over year, with fevers over 100 degrees every day. I lost weight, sometimes I was so lethargic I couldn't even get out of bed, and my spleen was enlarged. Doctors couldn't figure out what was wrong with me. I had to have tons of tests, lab work, x-rays, and various other procedures. I must have seen at least 7 different doctors. For a while, there were even some people who doubted that I was sick at all, which really made me mad. After a year of being poked and prodded, and of not knowing what was wrong with me, I finally got a diagnosis; Lupus.

I haven't been in school full-time, except for 6 months, since I began my journey into Lupus. Everytime I try to go to school, I always end up having flares, which means that I will be extra tired and have terrible joint pain, I will be more prone to catch viruses, etc. One year, I had such bad joint pain and swelling in my knee that I was on crutches for almost 6 months. I have to take around 20 pills a day, sometimes more, sometimes less. I get so sick of taking pills sometimes, especially those horse pills. For 3 or 4 years I got an injection each week, of methotrexate, low-dose chemotherapy drug. I now have treatments with cytoxan, a heavy duty chemo drug, which can make me feel really sick. Once a month I also get an infusion of steroids (I also take steroid pills every day). I hate taking the steroids because they make me gain weight - I gained 25lbs because of taking them (and that makes me miserable), and they stop my bones from growing. In fact, because I have taken the steroids for about 6 years, my adrenal gland isn't working properly. Also my bones have finished growing, so I won't get any taller. Who knows how tall I would have been if I hadn't had to take steroids???

For some reason, when people with Lupus are in the sun too much they tend to have flares (periods of disease activity). Some Lupies can handle a little, while some Lupies can't handle any sun. I live in Florida and a big thing down here is to go to the beach and go swimming or sunbathe. I love swimming and decided to join my high school's swim team. It is really good for my joints to be in the water, but sometimes the swimming is hard because I stay so tired. I still have to be careful about sun exposure. Luckily practice and meets are in the late afternoon (I am not supposed to be in the sun from 10:00 am until 4:00 pm). I need to remember to put on my sunblock, just like everyone else, although sunbathing is totally out of the question. If only the beach had a big screen over it! LOL!! I really miss having tan lines!

When I grow up I plan to be a soap opera star. I guess I want to be one so bad because I have been home so much all these years and got attached to soaps, so that's my dream!!! Of course I will continue my education. For a back-up career I am going to be a pediatric nurse, on an oncology floor. I say that because I always seem to get attached to my nurses, and they brighten up my day, most of the time.

Sometimes I am in denial about having Lupus I mean, this can't be true, I'm not going to have this disease, which sometimes makes me feel so sick, for the rest of my life, am I???? Why me??? Some teens get so much into denial that they even stop taking their medicine and then they get really sick!! I know, because I did... I was fed up with taking so much medication, and so tired of the side-effects. It was a bad idea; I felt very sick and I hurt so bad that I couldn't hardly walk. I will never do that again (at least not on purpose, I sometimes forget a dose when my brain gets a little "foggy").

I hate that I can't do as many things as other kids do. I try not to look at it that way, I just do different things than other kids! When I go into a flare and have to leave school, I sometimes lose touch with my friends, and that's tough. Although, not being in school has helped me find out who I really am inside. I have become wiser in many ways. I am also more tolerant of people and their differences; I dont judge people by how they look.

Right now, I only go to school for lunch, German, American History, and Team Sports. I have a homebound teacher who teaches me Math honors, Science Honors, and English HonorsI will be taking Life Management this summer online, along with Government. I am a straight A student. I have received various awards in the last few years; academic awards, 4.0 honor roll and county volunteer awards. I am also one of three Disneys Dreamers and Doers selected for Brevard County in 2001. I have been in the newspaper a few times, in articles about lupus and school volunteering.

In September of 2000, I did a walk for Leukemia and raised $500 in a week. I was motivated to do this walk because my friend, Courtney, died of Leukemia a month earlier. She was my best friend. We got along so well because we both had been through a lot with being sick and all. I was devastated when she died. But I knew I had to make a difference, so I did the walk. One thing that Courtney taught me that will always stick with me for life is not to care about what other people think. I am so thankful for knowing that. I will always remember Courtney, who is a hero to me, and all she taught me.

When I am not sleeping (when am I not sleeping?!?!) or doing school work I try to do a variety of things. I like to watch my soaps (all 7 of them!!). I attend Teen Court sessions, where I usually am one of the prosecuting attorneys. I am a member of the BETA club. I am the President of the Junior Class. I like to volunteer whenever I can. I really like volunteering - when I am older, I want to volunteer at Boggy Creek Gang Camp.

Boggy Creek Gang Camp is a camp that is for chronically ill children. It is held in the summer for one week and is free, due to donations from all over the country! Counselors and medical staff come from across the world to volunteer their time. BCGC also has New Year's parties and family retreat weekends. In the summer when you are there the point is to make you forget about your illness. Once you are there you are having the time of your life. I know I do. They have activities like archery, pool, fishing and boating, arts and crafts, woodshop, adventures, theatre and many more!!! BCGC is highly recommended. Everybody there is so nice and outgoing! Some of the sponsors of the camp are Paul Newman, Kyle Petty, Disney World, etc.... Whenever I think of camp I get a huge smile on my face!

Many fundraising ideas have come to my mind like doing a joke book for lupus and selling Lupus lollipops; all of this is for charity and to help find a cure! All the money that I raise will go to the Dorough Lupus Foundation. As some of you may know, Howie's sister, Caroline, died of Lupus. Howie is from the band, Backstreet Boys. Ever since Caroline passed away from complications of Lupus, Howie has been working hard to raise money for Lupus, in the hopes of finding a cure! In October 2001, on national Make A Difference Day, I did a fundraiser called "Steps For Lupus" and raised over $8,000. This year, Steps For Lupus will take place on April 26th, 2003. I want to raise at least $10,000 for the DLF - I know that's a lot of money, but this is personal to me, and I can do anything that I put my mind to.

Ever since I was diagnosed with Lupus I have wanted to find a way to help other kids with Lupus. So I started keeping a journal about how Lupus affects me and makes me feel everyday. I want to publish it so other children and teenagers will know that there are others out there that they can relate to. Also, I am hoping it will help them out in some sort of way. My book is going to be about my journey into Lupus. There will be jokes in the book to cheer the readers up a bit; there will also be quotes. I really hope to make a difference and spread Lupus awareness!! Of course, I plan to donate part of the proceeds to the Dorough Lupus Foundation and Boggy Creek Gang Camp!

If someone were to ask me what I wanted to do when I grow up, I would say that I wanted to make a difference. However, what I want to be is a soap opera star.

Love and Harmony,
Ta,
Jillianne
The one and only natural diva and soon to be soap opera star!