A BIG WELCOME
Welcome to Bayside Aquatics 2003-2004. We are looking forward to another very competitive season. With the return of our veterans, plus the addition of new talented swimmers and divers, we believe Bayside will continue it's winning tradition. We are also excited about moving into our new high tech training facilities at BCC's Palm Bay campus. With this new facility, which opened June 2003, we'll definitely enhance our water sports program here at Bayside. Our goal is to have one of the top water sports programs in the state of Florida. If you have any concerns or questions, please feel free to contact me, or any of our staff.
Go BEARS,
Coach Bob Gailey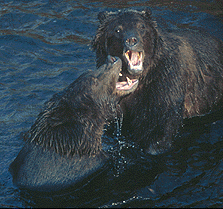 BEWARE THE BEAR
THERE WAS A PARENT'S MEETING AT THE BCC POOL on WEDNESDAY, 9-17 at 6:30PM. Some of the areas covered were the upcoming Cape Coast Conference (Oct. 16 & 17), which we are hosting, needed volunteers, and fundraising. Thank You to all parents who attended. If you were unable to attend and would like the info passed out, please contact Coach Gailey... Thank you......
Bayside Swimming Bears Chant

We are the Bears
the mighty, mighty Bears.
Everywhere we go
people want to know.
Who we are.
So, we tell them...
We are the Bears,
the MIGHTY, MIGHTY BEARS!!!!!


Head Coach: Bob Gailey
(321) 956-5000 X3203
Asst. Coach: Martin Definbaugh
Diving Coach: Brooke Hargis

Bayside Swimming Team Captains:

Girls Team
Katherine Wilson
Amanda Heitsch
Stephanie Love
Leah Brockleman
Boys Team
Dale Daut
Evan Boley
David Silva
Team Manager
Jillianne Trotter
Newsletter: Martin Definbaugh